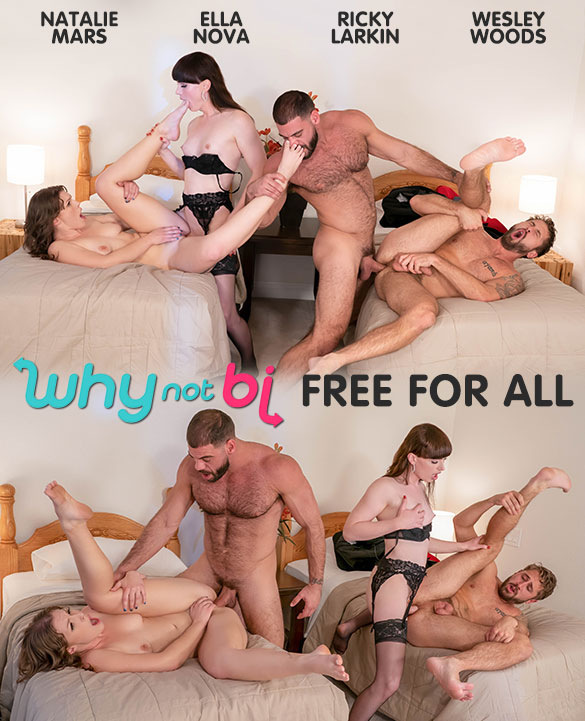 Production year: 2019
Country: USA
Studio: WhyNotBi
Genre: Bareback, Anal Sex, Vaginal Sex, Group Sex, Trans, Big Cocks, Muscle, Hairy, Blowjob, Tattoos, Bisexual, Cumshots, Kissing, Masturbation, Rimming
Duration: 00:46:09
Description: It's a stormy night and Natalie Mars arrives at a nearby hotel soaking wet after her car breaks down. The hotel is completely booked, but clerk Ricky Larkin feels sorry for Natalie.
He gives her the last room since the people who made the reservation were no-shows. After Natalie thanks Ricky and goes to settle into her room, Ella Nova and Wesley Woods show up wanting to check in. Ricky gives them the bad news, their room has been given to someone else! Ella and Wesley are not happy about the situation so Ricky comes up with a solution. He asks Natalie, Ella, and Wesley if they would mind sharing if he comps the room. They agree and Ricky goes to get more towels for them. While Ella is in the shower, Wesley and Natalie start fooling around. Ricky returns with the towels and catches them in the act. Wesley invites him to join in and Ricky excitedly agrees. When Ella exits the shower she's shocked by what's happening. Upset that Wesley's fooling around with another girl, Natalie decides to comfort Ella by revealing her cock. Ella's intrigued and starts making out with Natalie. Looks like being stuck indoors is turning out to be a lot of fun for this foursome!